Reedkontakte mit Fahrtrichtungserkennung
Reed Contacts with Detection of the Travel Direction
---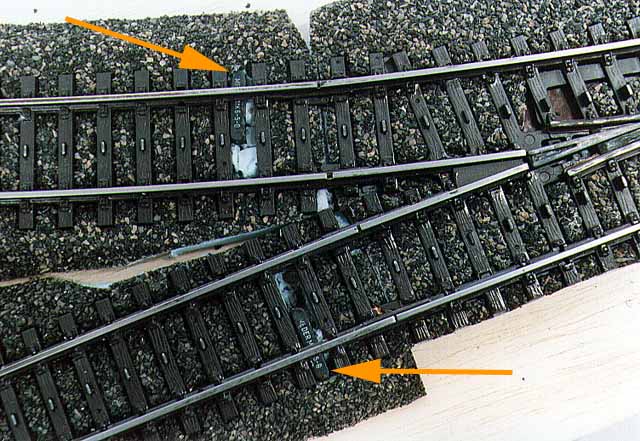 Reedkontakte eignen sich hervorragend zur vollautomatischen Zugsteuerung. Sie sind klein und billig (sofern man sie vom Elektronikversender bezieht statt von Märklin) und lassen sich gut zwischen den Schwellen verstecken (orange Pfeile). Zuerst hatte ich diese kleinen Reeds mittig zwischen die Schienen plaziert, aber sie wurden nicht zuverlässig ausgelöst. Erst wenn sie asymmetrisch angebracht sind, also etwas unter der einen Schiene liegen, klappt es perfekt. Ich benutze Reedkontakte des Typs Meder MK65G (24 Volt, 1 Watt) für knapp 2 DM/Stück von:

Kessler Electronic
Hubertusweg 2
58540 Meinerzhagen
Tel. 02354/9046-27 und -28
Fax. 02354/904629

Reed contacts are suitable for fully automatic train control. They are small and inexpensive (if they are purchased from electronics dealers, rather than from Maerklin) and it is easy to hide them between railties (orange arrows). At first I placed the reeds in the middle between the rails, but they were not actuated reliably. But when they are placed underneath one of the rails, they work perfectly. I use the reed contacts of the type Meder MK65G (24 Volt, 1 Watt) for about 2 Marks per piece from Kessler Electronic.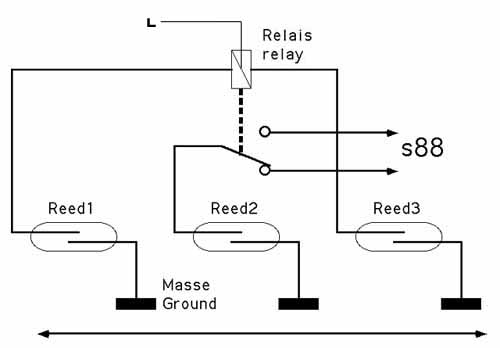 Reedkontakte haben gegenüber den mechanischen Schaltgleisen einen Nachteil. Sie lassen nicht erkennen aus welcher Richtung die auslösende Lok kommt. Wenn man aber drei Reedkontakte hintereinander plaziert und wie im Bild ersichtlich verkabelt, hat man ebenfalls eine Richtungserkennung. Die Reedkontakte müssen einen gewissen Abstand voneinander haben, da das Magnetfeld eine gewisse Streuung hat. Wenn 5-6 Schwellen dazwischen liegen, ist die zeitgleiche Auslösung zweier Reeds ausgeschlossen. Ich benutze die Märklinmagnete 7557 und 7558, weil sie sehr stark sind. Mit 7556 machte ich nur schlechte Erfahrungen, genauso wie mit den billigen Magneten vom Elektronikversand. Sie sind zwar ausreichend stark um Reedkontakte auszulösen, die auf die Schwellen montiert sind, aber bei "versenkten" Reedkontakten (orange Pfeile) versagen sie.
Compared to mechanical switches, reed contacts do have a disadvantage. They can not recognize from which direction the locomotive is coming. However, if one places three reed contacts in a row and connects them as shown in the picture, direction of travel can be recognized. Some distance is required between the reed contacts, due to the scatter effect of the magnetic field. If they are placed 5-6 rail ties apart, simultaneous activation of two reeds is impossible. I use the 7557 and 7558, magnets from Maerklin because they are very strong. I had poor success with 7556 magnets and with cheaper magnets from electronic suppliers. While they are strong enough to trip reed contacts that are mounted on top of railway ties, they are useless with recessed reed contacts (orange arrows).